HOW COME I ALWAYS GET BLAMED FOR THINGS I DO?
A Pickles Collection By Brian Crane
Take one long-married and occasionally exasperated couple getting along in years, their well-meaning daughter and precocious grandson, a clueless dog, an independent-minded cat, plus assorted other quirky but endearing characters and you have the world of Pickles, Brian Crane's beloved comic strip that takes a wry but good-natured look at the foibles of family and friends.

How Come I Always Get Blamed for the Things I Do? is the fifth collection featuring the domestic ups and downs of Earl and Opal Pickles, validating Peanuts creator Charles Schulz's prediction that "Pickles is going to be around for a long time." Pickles won the Outstanding Cartoonist of the Year in 2013 from the National Cartoonists Society, (read the Washington Post Article) and Pickles has been nominated twice as Best Comic Strip, a prestigious award it won in 2001. It consistently tops comic polls and appears in almost 700 newspapers worldwide. Brian Crane lives with his wife, Diana, in Sparks, Nevada. His family includes seven children and eight grandchildren.
I don't think there has been a morning since you started in the Record that I haven't had a chuckle.
Your strip, Pickles, is one of the mainstreams of our day… We just can't wait to see what is going on next.
We are great fans of Pickles and many times we can see ourselves in the same roles as Opal and Earl.
Brian Crane is the recipient of the prestigious 2013 Reuben "Cartoonist of the Year" Award.  PICKLES appears in over 800 newspapers worldwide and has been nominated twice for "Best Comic Strip."  PICKLES received the honor in 2001.  Crane lives in Sparks, Nevada, with his wife and they are the proud parents of seven children and eight grandchildren.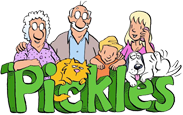 Book Details
ISBN: 978-1-936097-01-2
Size: 8.5 x 9, 136 pp.
Publication Date: December 2010
Retail Price: $13.95