Released February 28th, 2017
Line Study of a Motel Clerk
A collection of poems by Allison Pitinii Davis
Line Study of a Motel Clerk examines a family's century-long effort to make a home in a changing world. Pitinii Davis takes readers on a heart-stopping journey through her lineage, with all the grit, beauty and truth of the working class immigrant struggle. One side of the family opens a trucking motel, the other a laundry. The businesses change hands through three generations as the industrial steel valley booms and busts. When these two disparate families become one, the new generation must question what it means to endure a place, a culture, a language, and a history.
Line Study of a Motel Clerk was recently selected as a finalist for the 2017 Berru Award from the National Jewish Book Council.
Born and raised outside of Youngstown, Ohio, Pitinii Davis holds an MFA from Ohio State University and fellowships from Stanford University's Wallace Stegner program, the Severinghaus Beck Fund for Study at Vilnius Yiddish Institute, and the Fine Arts Work Center in Provincetown. Her 2013 chapbook, Poppy Seeds, won the Wick Poetry Chapbook Prize.
Book Details
Title: Line Study of a Motel Clerk

Author: Allison Pitinii Davis
Publication Date: March 2017
Paperback: $17.00
ISBN: 978-1-936097-13-5
Red Ochre Edition
Dist. by Publishers Group West
www.pgw.com, 800-788-2123
---
Black Rock Press Broad Side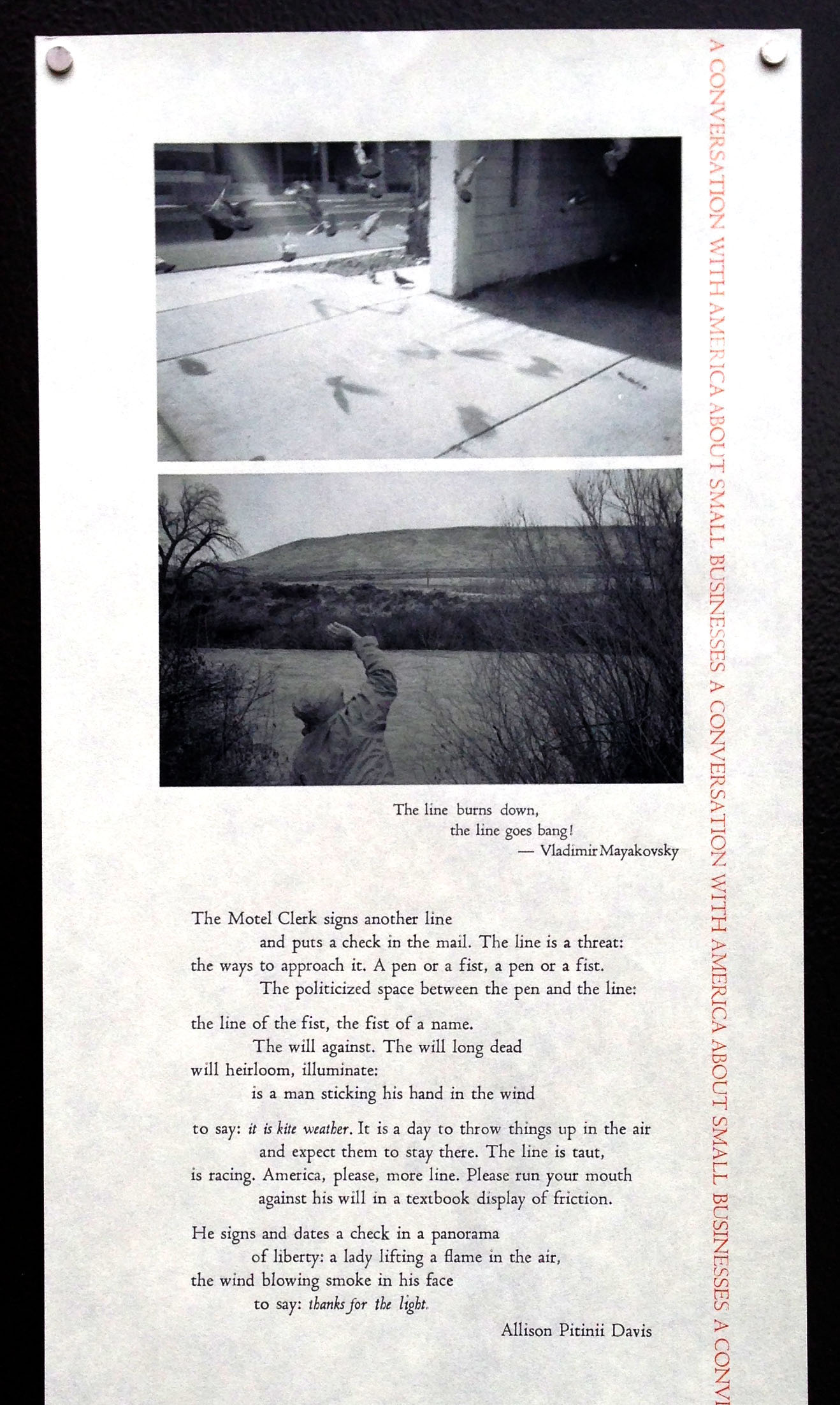 Designed and printed by students and staff at Black Rock Press, University of Nevada, Reno. Photos by Henry MacDiarmid, 2017. Please contact Black Rock Press at blackrock@unr.edu for purchasing inquiries.
---
Reading Dates
October 15, 3pm
Southern Festival of Books
Panel: This Difficult World: Familial and Narrative Poems with Kamilah Moon, Rebecca Gayle Howell, & John Lane
Nashville Public Library Conference Room 3
615 Church Street
Nashville, TN 37219
Past Readings
September 3, 3pm
Poetrio Reading Series
Malaprop's Bookstore
55 Haywood Street
Asheville, NC 28801
August 19
Avid Bookshop
493 Prince Ave.
Athens, Georgia, GA 30601
August 4, 7pm
White Whale Books
4754 Liberty Ave.
Pittsburgh, PA 15224
June 10, Time TBA
Big Mess Reading Series
Annabell's Bar & Lounge
784 W Market St.
Akron, Ohio 44303
June 7th, 7pm
Lit Youngstown First Wednesday Series
with Nin Andrews and Rochelle Hurt
Purple Cat Productions
220 W Boardman Street
Youngstown, OH 44503
April 17, 7pm
Poetry Forum Reading Series with Kathy Fagan
Bossy Grrl's Pin Up Joint
2598 N High St.
Columbus, OH 43202
April 12, 7pm
Last Exit Books
124 E. Main St #1
Kent, OH 44240
April 12, 12pm
Youngstown State University
1 University Plaza
Youngstown, OH 44555
April 4th, 4pm
Tennessee Wesleyan University
Merner Pfeiffer Library
204 E. College St.
Athens, TN 37303
March 16th, 8pm
Toots Little Honky Tonk: The Only Tenn-I-See Reading Series
114 E. Anderson Ave.
Knoxville, TN 37917
Please check back for additional dates soon.
Advance Praise
Allison Pitinii Davis speaks Ohioan, as James Wright wryly put it, and gives us a world in this utterly fresh, well-crafted, and exhilarating debut volume.

—Edward Hirsch
In Line Study of a Motel Clerk, Allison Pitinii Davis explores the complicated intersections among ethnicity, family, work, and loss that shaped the culture of Youngstown. The language and images are specific, and while some readers may well recall their own visits to the steel museum or the sounds of local bands and radio stations, these poems are not merely local. Instead, they invite us to think about the meaning of place — about how we come to be in particular places and how our lives are shaped by those who came earlier, from other places. These poems remind us that a sense of place is rooted in family stories, in the material spaces of small businesses and local bars, in words and memories.

—Dr. Sherry Linkon, author of Steeltown USA: Work and Memory in Youngstown (Univ Pr of Kansas)


This book refuses the notion that poetry is an enterprise of the elite. In Line Study of a Motel Clerk, interstate truck drivers, laundrymen, and desk clerks have as much wisdom and beauty to offer as Reznikoff, Spinoza, and Mayakovsky. Allison Pitinii Davis knows that the poet, too is a worker, "straightening / endings and beginnings / into a line." As a daughter of converging diasporas, she is a "great bearer of keys," opening doors to a family history that reveals the links between language and survival, between past and present, between the personal and the political. This is vital poetry of the working class, for whom "Saying nothing's beyond / our means." In carefully crafted lines that fuse passion and wit, Davis does more than pay tribute to her home, a place shrouded in dark myth: she dives into the wreck, questions her place there, and pulls up the truth.

—Rochelle Hurt, author of The Rusted City (White Pine Press)


What is it that connects us? The shortest distance between two points, a strand of DNA, a family tree, a trait, the literal road, the exit to the motel where we choose to stop for the night. Allison Davis' Line Study of a Motel Clerk traces all of these paths–yellowed newspaper headlines to family heartlines—until the picture comes into an unflinching focus. In this marvelous debut collection the poems rev and roam, wander and wonder, they shake even as they sing. 

—Catherine Wing, author of Gin & Bleach (Sarabande Books)

In this unforgettable debut, Allison Pitinii Davis tells the American story of two immigrant families: the Jews own a Rust Belt motel, the Greeks run a laundry; they ultimately merge to create the speaker of these eloquent, unsentimental poems, that remind me so happily of William Carlos Williams and Philip Levine. Line Study of a Motel Clerk is a story of transience and love—"the heart of it all + a free beer"—of looking almost too closely, forward through the windshield and back into the past. "There is a way to love things open," Davis writes of the duplicate keys that hang at the Youngstown motel, awaiting the hands of temporary guests, "perfect copies/cut out//for their work." Davis's story is likewise familiar—but in her hands, loving and brand new.

—Kathy Fagan, author of Sycamore (Milkweed Editions)