OH, SURE! BLAME IT ON THE DOG!
A Pickles Collection by Brian Crane
Getting old is not for sissies. But as Brian Crane's crotchety but endearing seniors Earl and Opal Pickles do it, it can be humorous and often touching. For over twenty years, Crane's comic strip, Pickles, has been delighting readers around the world. This sixth collection continues the adventures of grandparents Earl and Opal; their precocious grandson, Nelson; quirky family members and friends; and the family's dog and cat, who offer their own distinctive views of the goings-on. Crane's view of the foibles of a long-married, often cantankerous couple and their extended family and friends is wry, honest, and always warm-hearted.
Brian Crane's Pickles appears in over 800 newspapers worldwide. He has been nominated three times and won in 2013 the Outstanding Cartoonist of the Year by the National Cartoonists Society, (read the Washington Post Article) and Pickles has been nominated twice as Best Comic Strip, a prestigious award it won in 2001. Cranes lives in Sparks, Nevada, with his wife and family, which consists of seven children and eight grandchildren.
My grandfather, Johnny Hart, always told me that if you want the perfect lesson in how to be a successful cartoonist, take a look at PICKLES.  I couldn't agree more.
The logic of Earl.  That's my favorite part of PICKLES.  Or maybe it's the straight talk of Opal.  Or the naiveté of Nelson.  Hard to choose.  It's certainly not the fact that the older I get, the more I recognize myself in PICKLES.
PICKLES is one of my all-time favorite comic strips, and Brian Crane is one of my all-time favorite cartoonists.  PICKLES is original, funny, fresh…nice without being corny, warm without being sappy.  I don't know how he does it day after day.  THere is something for everyone here…. I don't know anyone, of any age, who doesn't love PICKLES.  It's an honor to share the funny pages with such a great strip.
Brian Crane is one of the finest cartoonists working today.  PICKLES is consistently funny and insightful.  Brian not only makes us laugh, but he uplifts us as well.
My mom always says that "my" comic strip is her favorite, but I know it's really PICKLES.  That's okay, because it's my favorite too.
Brian Crane is the recipient of the prestigious 2013 Reuben "Cartoonist of the Year" Award. PICKLES appears in over 800 newspapers worldwide and has been nominated twice for "Best Comic Strip." PICKLES received the honor in 2001. Crane lives in Sparks, Nevada, with his wife and they are the proud parents of seven children and thirteen grandchildren.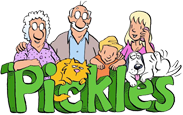 Book Details
ISBN:  (paper) 9781936097043
Size: 8.5″ x 9″, 136 pp.
Publication Date: Sept. 10, 2013
Retail Price: $14.95